Constellation Senior Players Championship Hospitality
---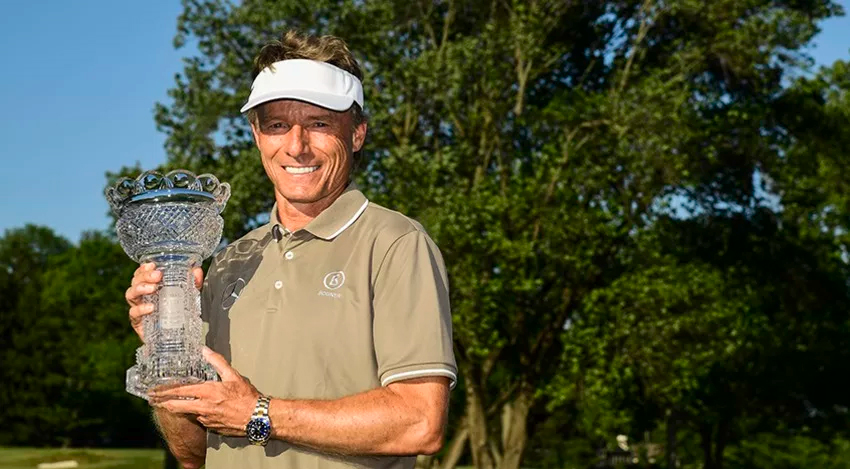 This year's event will take place at The Caves Valley Golf Club in Owings Mill, Maryland
Constellation SENIOR PLAYERS Championship at The Cave Valley Golf Club provides an excellent opportunity for you to socialize with clients, business associates, and employees. The quality of play, the extravagant setting, and our clientele all combine to set this event apart from all other hospitality opportunities in the Baltimore market.
Each hospitality area has been designed to meet specific entertaining needs. While the Harbor Chalets, Hill Top Suites, Camden Club, Charm City Pavilion and Carroll Pavilion offer different hospitality amenities, they each provide your guests the highest quality entertainment experience. Staffed by professionals, you will be able to relax and enjoy while entertaining your guests.
In addition to the professional staff, volunteer hosts and hostesses are available to assist you and your guest. Some of their duties include greeting guests, providing information about Constellation SENIOR PLAYERS Championship, locating staff, overseeing minor cleanup in the area, assisting in entry control, and monitoring noise levels during play. The majority of our hospitality volunteers have previous golf tournament experience.
In order to help guests find your hospitality area and answer general questions, corporate information locaters and an information booth will be located at the entrance to Constellation SENIOR PLAYERS Championship grounds. The volunteer staff will be able to contact your hospitality venue if necessary.
We are committed to providing the highest level of service to you and your guest from today all the way through the presentation of the trophy on Sunday, July 16.
Please contact the tournament office if you have and questions or concerns at 410-648-4610. We look forward to seeing you in July!
Sincerely,


Constellaiton SENIOR PLAYERS Championship Staff
Schedule of Events
Monday, July 10

Course Closed

Tuesday, July 11

Championship Practice Round

9:00 am Gates Open

10:00 am Accenture Present's Executive Women's Day

6:00 pm -9:00 pm McCormick Championship Pro-Am Pairings Party

Wednesday, July 12

McCormick Championship Pro-Am

5:30am - Morning Registration Starts
6:30am Gates Open
7:00 - 9:00am Morning tee times off #1 and #10 tee
10:00am - Afternoon Registration Starts
12:00 - 2:00pm Afternoon tee times off #1 and #10 tee

Thursday, July 13

Championship Play – Round One

7:00am Gates Open
7:30am – 12:05 pm Approx. tee times off 1st tee
1:30pm – 4:30pm Golf Channel Broadcast

Friday, July 14

Championship Play – Round Two

7:00am Gates Open
7:30am – 12:05 pm Approx. tee times off 1st tee
1:30pm –4:30pm Golf Channel Broadcast

Saturday, July 15

Championship Play – Round Three

7:0am Gates Open
7:30am – 1:12pm Approx. tee times off 1st tee
3:00pm – 6:00pm Golf Channel Broadcast

Sunday, July 16

Championship Play – Final Round

7:00am Gates Open
7:30am – 1:12pm Approx. tee times off 1st tee
3:00pm – 6:00pm Golf Channel Broadcast
Award Ceremony immediately following play – 18th Green